Thunderbird drilling systems have been utilized on blast hole drills in all types of open-pit mines across the world for over 30 years. T-Bird has proven to have high paybacks & provide critical information to the drill operator, the blasting crew & mine management.

More Accurate Hole Depths – eliminate over or under drilling
Accurate Hole Locations without Surveying – improve blasting & fragmentation lowering overall mining costs
Optimize ROP for the Drilling Conditions – increased footage or meters
Identify Coal Seams or Hard/Soft Strata Zones – more accurate blasting & reduced explosive costs
Track Delays – maximize drilling time
Automate the Collection of Production & Drill Stem Data – eliminate the hand-written reports & provide more accurate data
Training Tool – provide feedback to new operators
View the Thunderbird range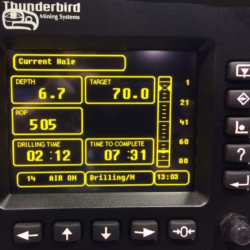 Thunderbird's DEI Plus uses display technology to provide an extremely rugged, sunlight-readable, crisp display. The design technology allows it to store data & conduct extensive on-board calculations.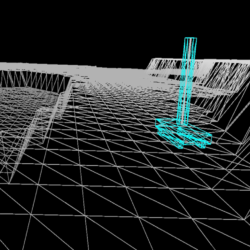 The DEI+Nav has been designed from the ground up by a team that pioneered the development of the first drill monitoring and GPS navigation systems.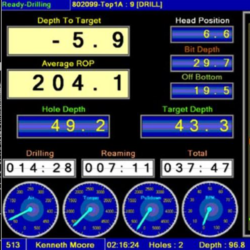 The DEI-X platform can also be readily upgraded to a Drill Guidance system for those mines that may require a navigation system at some point in the future.
Want to know more? Get in touch