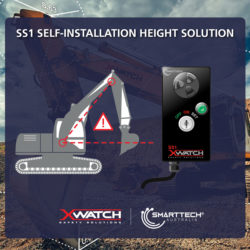 Join the safety revolution
Enjoy EXCLUSIVE INTRODUCTORY PRICING on the new XWatch Safety range at SmartTech Australia. SS1 (the Simple Safe One) is the entry-level, no-nonsense angular motion limiter that can be used on a variety of hydraulic plant to provide basic height limitation.
You can grab this limiter for $3,400* PLUS advantage this financial year of the increased INSTANT ASSET WRITE OFF up to $150,000k for eligible business.
There has never been a better time to upgrade the safety of your site.
Call our team today for more information or leave your details below and our team will get back to you!
*Price excludes installation. Introductory offer applies to purchases from 01.06.20 – 31.10.20. Refer to www.ato.gov.au/business for Instant Asset Write Off eligibility